Outlook 2003 Setup Guide - Managing your mail using Windows
Last modified: October 13 2005 11:39 am
[

Print Page
]
1)

Open Outlook 2003
---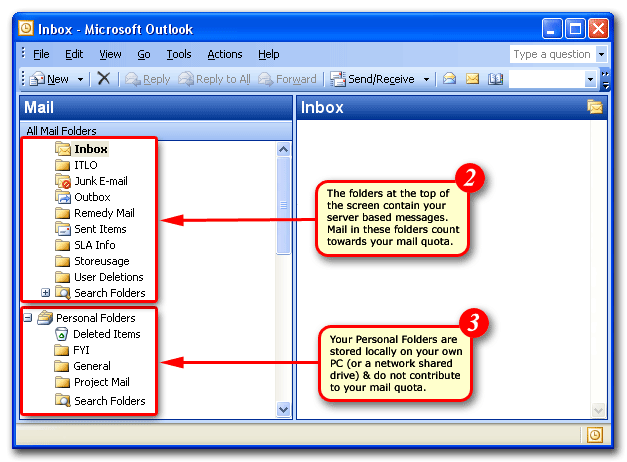 2)Examine the 'Folder List' on the left of the screen. The folders at the top of the page contain your server-based messages. Any messages in these directories contribute to your mail quota.
3)

At the bottom of the folder list you might also see a directory called 'Personal Folders'. This directory is stored locally on your PC and does NOT count towards your mail quota. If you already have a personal folder setup please click here to skip to the Moving Mail section. If not, please follow the steps below to create a new personal folder file.
---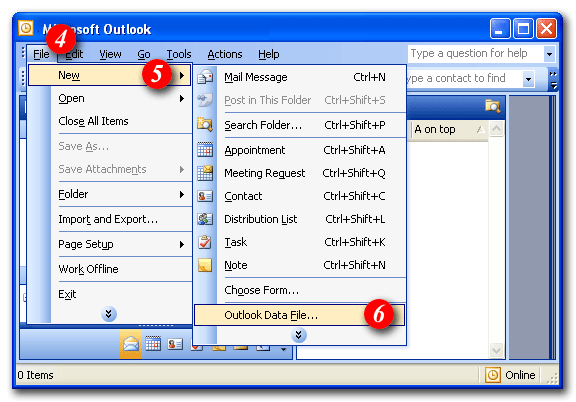 4)

Click the 'File' menu
5)Select 'New' from the drop list
6)

Select 'Outlook Data File...'
---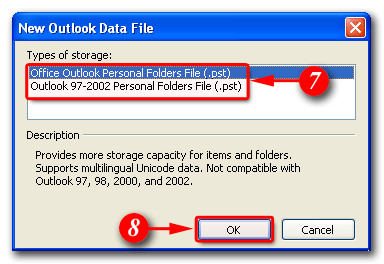 7)

Choose an appropriate type of storage. (N.B. If you would like to be able to view this file on machines running a version of Outlook that was released prior to 2003 you should select 'Outlook 97-2002...', otherwise use the default selection of 'Office Outlook Personal Folders File (.pst)')
8)

Click the [OK] button
---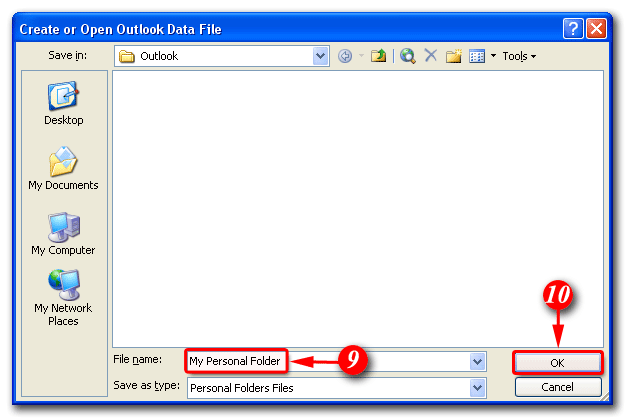 9)

Enter an appropriate 'File name'
10)

Click the [OK] button
---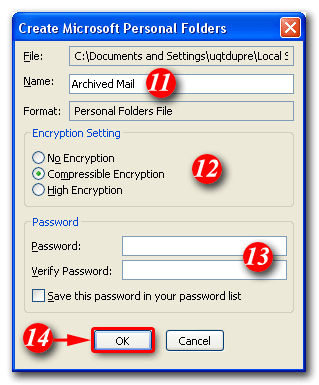 11)

Enter a 'Name' for your folder (N.B. This name will appear in the folders list on the left of the Outlook window)
12)

Leave the Encryption setting 'as is'
13)

If you would like to place a password on your personal folder enter the details here. (Note: ITS does not have the ability to reset this password, so you should only protect this folder if you feel it is absolutely necessary for security reasons. If you forget your password you will NOT be able to access your personal folders)
14)

Click [OK] to finish
---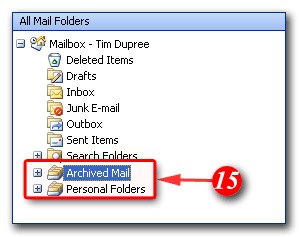 15)

Outlook will now return to the main screen and your personal folder will be visible in the folders list on the left. (Note: this example now shows two personal folders - The original 'Personal Folders' file that was present at the start of the exercise and a new 'Archived Mail' folder that was just created above) You can setup as many personal folders as you need to manage your mail effectively. Most people find that one personal folder with a number of sub-folders underneath it is the best way to go. For assistance creating sub-folders please click here.
---
Moving Mail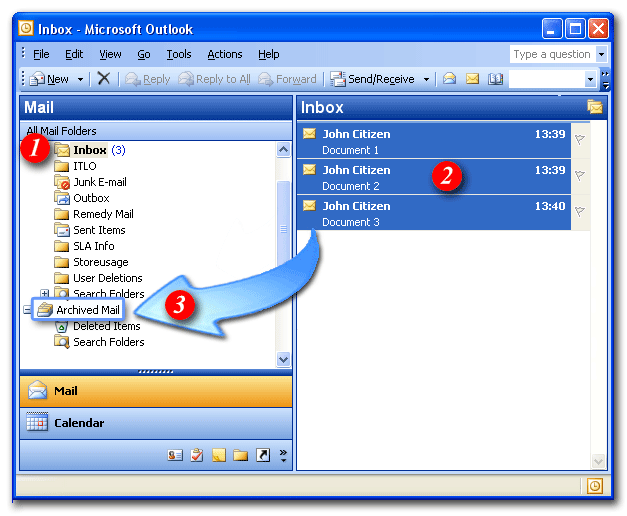 Now that your personal folders have been setup you can start moving some of your old e-mail from the server-based 'Inbox' to your new local directory. Please follow the steps below:
1)

Select your Inbox at the top of the folder list
2)

Highlight the mails you would like to move
3)

Drag the messages into the appropriate folder in your 'Personal Folders' file
---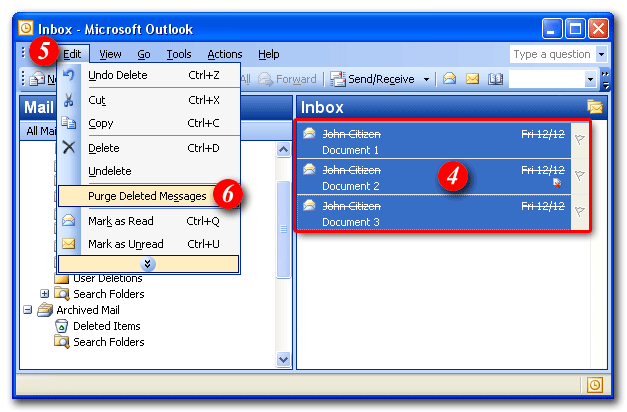 4)

Any mail moved from your Inbox will have it's status changed to 'Deleted', but will not disappear from your Inbox until it has been purged. Deleted messages that are waiting to be purged, appear as above, with a line through them.
5)

To purge your deleted mail open the 'Edit' menu
6)

Select 'Purge Deleted Messages' - all mail in a status of 'Deleted' will be removed from your Inbox
---
Creating Sub-Folders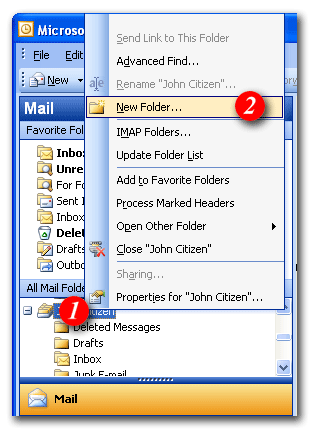 1)

Right-click your personal folder icon
2)

Select 'New Folder ...'
---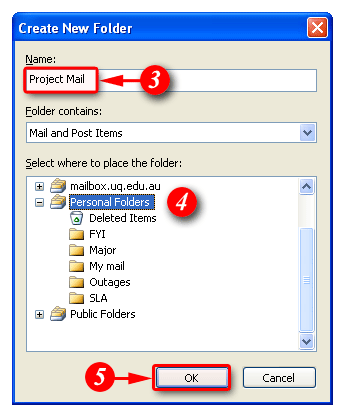 3)

Enter a name for the folder
4)

Ensure your personal folder is selected as the location for your sub-folder, and
5)

Click [OK]